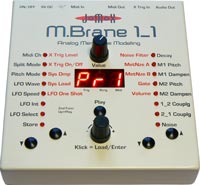 Following their hugely successful
MBase 11
,
Jomox
is set to release another earth shattering dedicated drum unit - The
M.Brane 11
. This time they're tackling the ever elusive membrane drums - Snares, Toms, Bongos, and the like. The unit can even offer up respectable Kicks and Hats, as the unit has a dedicated noise oscillator. Along with 2 of what Jomox calls T-Osc, or membrane oscillators, 2 analog envelopes, and an LFO with 8 waveshapes the unit is a percussionists dream. The unit has MIDI controls and has room for 110 patches.
A T-Bridge oscillator is actually something like a band pass filter which is working close to the resonant frequency. Because it becomes an actual sine oscillator at perfect tune-up, you call the deviation of ideal resonance dampen. In this case, the oscillator decays in form of an attenuated vibration if it's exited - similar to a single membrane that is hit.

You can read more about the M.Brane 11 and listen to a few audio demos on the M.Brane 11 page. This unit looks to be a perfect compliment to the MBase or a great intro to Jomox drum synths. I know I'll be there on day one to grab my hands on this little beauty.

Release date and price are TBA.